Mountain Biking in Cordova, Alaska

Singletrack Beauty...
Featured Listings
Points North Heli-Adventures, Inc.
1-877-787-6784
Providing you with the best mountain biking experience Alaska has to offer. Peddle on up to Cordova this season!
[more information]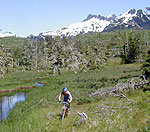 One of the best ways to see wildlife, get a workout, and explore Alaska's vast country? Mountain biking around Cordova is one of a kind.
Cordova has miles of beautiful, wild scenic trails as well as 60 plus miles of highway to the Child's Glacier. These trails range from beginner to advance and all have their own unique qualities. The old logging roads are an amazing way to view bear, moose, eagles and the different fauna that is in bloom during the summer.
Whether you pedal our remote trails or the ones around town, Cordova has a mountain biking adventure that will suit you perfectly. One the locals favorite trips is pedaling to the Million Dollar Bridge to view the Child's Glacier. Of course, you can then raft down the Copper River to your shuttle.